Testimonials
Lexi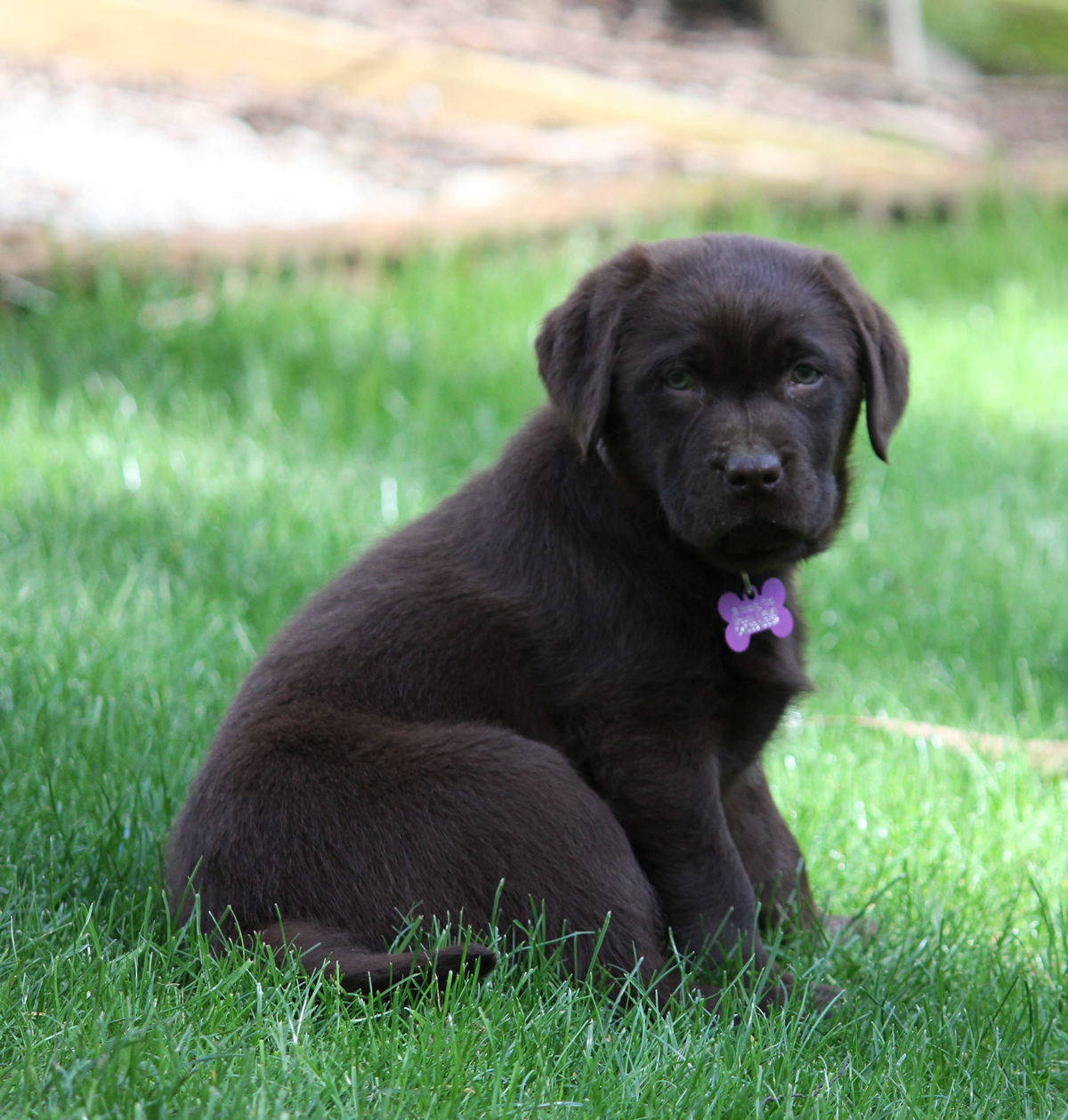 Thank you for such a wonderful natured puppy.
Lexi is just gorgeous and has taken a real shine to our 6 year old son Liam.
She is very quick when I get the camera out so she has been too close for a good shot. It has taken me until she was soaking up the sunshine before I could get a good shot of her.
She was very tired after her big trip but is having a great time today.
Thanks again to you all.
Ann and Andrew Wolstenholme

---
Bruiser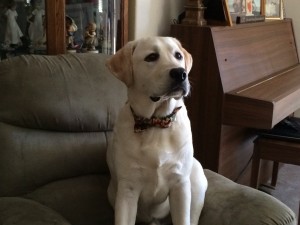 Good day to you all!
We just received Bruisers papers and we want to thank you so very much for sending it. Please be assured that Bruiser is in a family that loves him so very much. He is rambunctious, so full of life and a heck of a lot of fun! He brings so much love and happiness into our home!
Regards,
John and Carol Martinez
p.s. check out our handsome pup! He has proclaimed that recliner as his throne!!
---
Olaf
Hi Rochelle,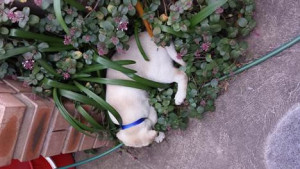 Olaf is settling in very well.
We have about 3 weeks until our new home will be finished so in the meantime we are with my parents. My parents have a 6 month old kitten (Snow) so she stays inside, Olaf stays outside during the day, and comes into Nathan and my room of a night. He has house trained really well. Makes it pretty much right through the night (11-4 usually, but last night was 1030-6, I am proud of that one, think we all needed the sleep).
We had our first vet visit and he is perfect!
He is a funny one though, if someone is with him, he will search the entire yard, do what he likes, but for some reason he just sits by the door when he is by himself. He has his favourite stuffed bunny toy, and carries it everywhere, he carried it to his favourite bathroom spot in the middle of the yard, and left it there sat by the backdoor and cried until someone went with him to go get it haha! And of course, he has chewed anything in sight.
Snow and Olaf get along quite well. When he cries, she sits by the door to keep him company, and when she meows he looks at the door quite worried.
They have met face to face and sniffed each other over but when she had enough and ran, he thought that was a game, so supervised meetings only for those 2.
Anyway, I thought i would send you a few pictures, let you know he is doing really well and thank you and Greg again for taking such good care of our boy!
Thanks,
Megan Smith
---
Burford
Hi Schelle,
Burford came to our home about 4 months ago & changed our lives completely. We LOVE him sooooo much, he completes our family.
A wagging tail to say how much he loves us…..
Big bright eyes looking up full of trust…..
A happy welcome each & every time we return home….
Funny antics, chasing his tail, trying to sit on his head, snoring louder than the hubby, the way he uses his paws like hands, anyone else seen this with their dog.
He always knows when we are preparing his dinner & looks at us longingly through the window….
Thinks that the boys are his puppy brothers…..
The way his whole backside waggles…..
When he knows he's been naughty, who me, I know nothing……
The kids soccer mascot, wearing team colours, he has melted so many hearts but captured ours completely…..
The proud way he saunters when out walking but still unsure of noises, smells, sights, life is such an adventure for him……
HE IS MAGIC…..
He came along & brightened our days, lifted our spirits & completely changed our lives
Sent from Carmel's iPad
---
Tilly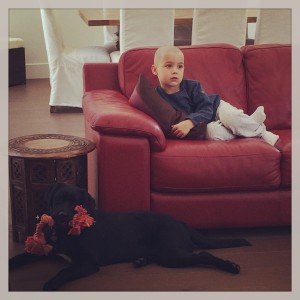 Hi Rochelle,
Just wanted to let you know our beautiful girl is thriving. She goes for long walks in the bushland twice a day, loves my son immensely and is a huge part of our family. She is everything we were looking for and more.
Thanks again
Penny
---
Marley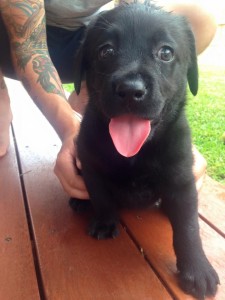 We were fortunate enough to be able to pick Marley up on Christmas Eve 2014. Rochelle and Greg met us on their property and gave us all the information we needed to look after our new pup. The puppies were all very happy, full of energy and looked well fed! Our new puppy is such great company for our three year old Golden Retriever and we could not be happier with Marley. She is loving, playful, energetic and very intelligent. Marley has such character and is very loving to our Golden who she treats like her Mother. To accompany their beautiful nature the dogs have very high hip and elbow scores which gives us peace of mind for the future health of our dog. We could not reccomend the puppies from Arroser Labrador highly enough.
Kind Regards,
Brock Shepperd
---
Kipper
Hi Rochelle
Kipper has the loveliest temperament and is an absolute joy & delight to have. He's extremely intelligent and has responded brilliantly to our training since we got him.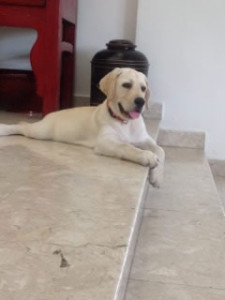 He loves the water, though unfortunately we can't provide him a pool to swim in, for now a hose has to suffice!
He is going on walks with me now and loves being let off the leash and playing with other dogs.
Our experience getting him from you has been wonderful. Im so pleased you responded to us first, and though its a matter of faith and trust too, we felt the whole process of being updated by you with photos and videos up until his departure at 12 weeks has been reassuring and professional. The paper work and permits to bring him in was handled brilliantly by yourselves and Dogtainer's. Our vet of the last 14 years had a look at him, and is also delighted with his overall development so far.
We will keep you updated with his development through the years.
Thanks again
Kind regards
Vandana
---
Taj
Thankyou Rochelle and Greg for our new baby Labrador, Taj. He is a wonderful addition to our household and has become a much loved family member! He is such a cheeky little fella and it gives us endless joy playing with him. He has such a wonderful friendly personality and is big softie as he loves his cuddles. Thankyou for looking after him while he was so little, we appreciate the effort you put it to keeping him safe when he was a baby, we couldn't imagine life without him.
Cathy and Chris.
---
Lola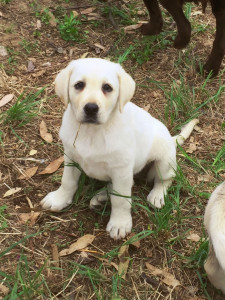 This letter is to share our experience in buying a Labrador puppy from Greg and Rochelle Andrews. As we live in Singapore it is hard to find any qualified Labrador breeders. After some research we decide to look for a breeder in Australia and did write to a number of potential breeders. Only a few wrote back to us and Greg and Rochelle did provide us with most visibility on the family history of the their upcoming litter and did make the most experienced impression. Based on that we decided to go ahead and book a puppy from the upcoming litter. Once the litter arrived Rochelle was so kind in sharing regular pictures of our new white lab called "LOLA". As we needed to import Lola into Singapore Rochelle helped us with the necessary vaccination and check ups before LOLA travelled to Singapore. Lola is now 4 months and is a healthy young dog with a great character. She has blended in well with both our young family and our 4 year old black Labrador. We are grateful to Greg and Rochelle for having giving us a great new family member and I recommend any one considering taking a Labrador to get one from any of their litters.
Kind Regards
Boudewijn Pesch
---
Eddie
I had always been a Border Collie owner, but unfortunately our Border Collie did not adjust well to life with a baby, (he is still extremely nervous of her) so we decided it was best (and safest) if he become an outdoor farm dog, looking after the horses and chooks rather than an indoor pet.
I was missing having a pet dog, but was unsure and a little worried about which breed would best fit with our now two year old daughter, and our active and varied life.
My husband suggested Labradors. I was not at all keen, as an ex vet nurse, I had seen too many badly behaved ones!! But, as normally happens, he convinced me to check into Labs a bit further.
We were lucky enough to find Arroser Labradors in our research, so I made a phone call to Rochelle. I was so impressed that all the hip, elbow and other health checks were completed and with great results. Rochelle was more than happy to answer my question, and help me with all sorts of information. Finally (probably tiring of my queries!) she suggested that the only way to make this decision was to meet the dogs, so we headed out to meet the family.
From the second I met the Arroser dogs, I was amazed at how calm all of the dogs were, no jumping, no stupidity, just sensible good looking dogs. From that moment I knew that it was going to be an Arroser Lab for us.
All of the bitches and the stud dog are beautiful, intelligent and well behaved. They are truly family dogs, and we were in love, out daughter wanted her puppy right now!
Luckily, Gussie's litter was not all spoken for, and we were able to book a puppy. After having a difficult time with our Border, I wanted to ensure we ended up with the right pup. So I deferred to the experts!
Rochelle and Greg took the time to get to know us, and what we wanted from our pup, and recommended a puppy that they felt was the best fit for us.
In our case, we have a black boy called Eddie (Arroser Sammy Davis).
Eddie is the perfect pup, I have never had such a laid back, happy, well behaved fur kid!!
He is gentle with our daughter, and will sit and come when she calls him, and never jumps up or bites her. They play together wonderfully, to the point if Eddie has to spend time outside while we are indoors she has a tantrum!
At 13 weeks Eddie walks calmly on a loose lead, is happy playing with other dogs in the park and is great in the car. He comes to work with me, and always gets compliments on his relaxed and laid back nature and good manners. (From vets!!)
I can assure you Eddie's behaviour is not due to a lot of training, as a mum who works full time, I don't have much training time!! This puppy just fit into our lives as though he knew what to do. As I write this, he is snoring next to my bed in his crate.
Rochelle and Greg know Labradors, and are breeding dogs that are sound conformationally, beautiful looking and most importantly have fabulous temperaments.
If you are looking to add a pup to your family, I strongly suggest that you choose an Arroser pup.
---
Marnie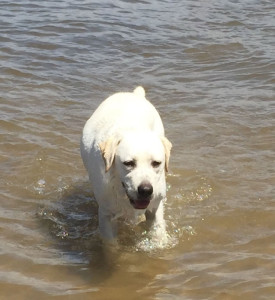 Having had Labradors in my family for many years back in Canada, I did my research when it was time to find a breeder near Sydney. I chose Arroser because it is a small, farm-based operation with Champion bloodlines. Above all, I could sense that all Arroser labs are a much-loved part of the family. We were impressed by the consideration Greg and Rochelle give to ensure they breed the highest quality, genetically and physically sound pups provided with the best care right from the start. Greg and Rochelle make sure to pair the right home for each of their pups so we really appreciated their advice when choosing our gorgeous girl 'Marnie' (AKA Arroser Marilyn Monroe). We couldn't be happier. She has the nicest temperament of any Labrador I've had and, from the moment we brought her home, she been a treasured addition to our family.
All the best,
Jennifer, Justin & Marnie
---
Jessie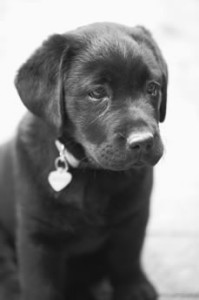 Following the sudden death of our beloved golden Labrador Toby , we had no intention of bringing a new puppy Into our family. Our other dog seemed to have settled down and we were unsure how he would react but I knew we would have another lab one day so started some research. The Arrosser philosophy was perfect for us – we wanted a family dog, that would be quite active and fun : we also decided on a bitch this time and also a black girl if we could ( just to ring the change). And then one weekend we started talking about the best time to introduce a puppy into the family and that was that…..
I contacted Rochelle and told her our story: she was about to have a new litter and there were spaces …. On sept 15 2014 our baby girl Jessie was born and there were tears in our house : she was beautiful! We met her and fell in love ( it took our old beagle a lot longer but he now adores her).
Jess is the love of our lives – her temperament and personality are perfect for our family. She is a bright and fun-loving dog typical of the breed , who loves nothing more than to be with us ( or George the beagle) . We couldn't be happier and will be returning to Rochelle in the coming years to add another labrador to our family – maybe chocolate this time …
Sharon
---
Diesel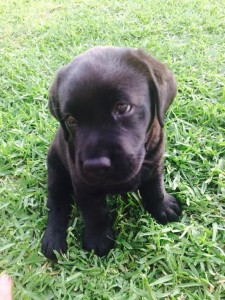 We are very happy puppy owners. Diesel is such a bundle of joy for our family. Your care to his mother and then him after he was born was amazing.
He was very much loved by you and your family. We are immensely thankful to you all for such a wonderful puppy. He settled in so well with us and has a gorgeous, easy going personality. He loves his walks and playtime, especially loves helping us garden (just like his mum!). He has grown so quickly, is so clever and very well behaved – now almost 6mths old! He is a very loved new addition to our family.
Thank you, Karen and Tony.
---
Zara
Well I'm 13 weeks old now… I'm just getting soooooo big now.. time has really got away from me…
Mum and dad's name is Lesa & Tim they are from Marulan NSW, Near Goulburn, they both had Labradors from previous relationships about 12 years ago now, Tim had Vic a black Labrador boy (a driftway boy too) he is nearly 14 years old, next month can't wait for his birthday party… and I annoy him 24/7… And mum had a blonde girl called Dilley..
Unfortunately Dilley lost her battle with cancer in April 2014, she was 13 years young..It was a very difficult time for my new mum and dad. They don't have two legged kids only the four legged hairy ones… like me…
On a better note they researched "Driftway puppies" and the rest is history!! They met me….
Mum and Dad were really fortunate enough to meet the lovely Rochelle & Greg who introduced them to me on the 12 July… They were my mum & dad until I was 8 weeks old, Mum didn't want to replace Dilley, but she was really sad and wanted me to keep her busy and make her laugh again.. They introduced us to the next chapter of our lives… Mum and Dad picked me up on 26 July…… and never looked back…
Im such a lively, happy, healthy little girl.. always keeping everyone on there toes, even the girls at the vets loved me… (I wouldn't change it for the world..)
I do love my quite time, I love cuddles with mum & dad and our afternoon walk and play time….
I LOVE FOOD, SLEEPING, DESTROYING THINGS AND WATER!!!!
I also love sticks, rocks, digging holes, hoses, masuer sandels (mum's), furniture, pot plants, worms, bistro blinds and my most favourite stubby holders, they are the best… I just like the simple things in life, even though mum & dad bought me heaps of cool toys… just not interested… he he..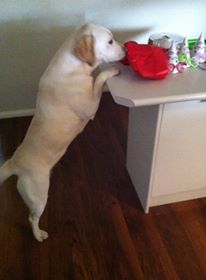 I sleep inside at night because I'm spoilt really… Vic does too Its a family tradition… I do like to sleep until about 10PM then I want to play and muck around.. Hey who doesn't…. Then up about 4.30-5am really early for mum because she isn't a morning person… I need my breakfast and go "WeeWee's"
I go to work with mum and dad for now.. just until I get a bit bigger.. Im getting better in the car too, love showing off out the van window… with my ears flapping in the wind.. awesome… I love my new home, I have nearly an acre to run around on…
Everything seems great but I do miss all my brother's, sister's and family in Ebenezer!!! I miss all the goss…
With love from Lesa, Tim & Zara…
---
Tilda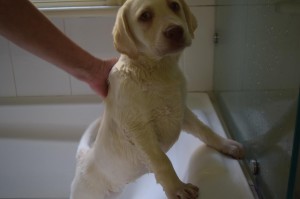 Just a quick note to let you know that Tilda has settled down into her new home.
She is great company – funny, loving, very smart and mischievous. Thank you so much for such a wonderful dog and thank you to Greg for all the tips and advice he gave us about Labradors when we came to pick Tilda up from your place.
Here are a few of photos of her: in the backyard, in the bath, at the backdoor and one of her just looking through those fabulous coloured-eyes of hers.
All the best and thank you again,
Elaine