Arroser Labrador Breeders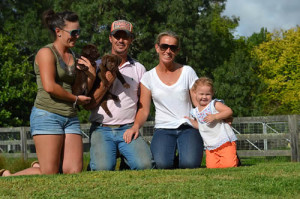 The Andrews family welcome you to Arroser Labrador Breeders . Greg and Rochelle have been very blessed in life with their lovely horses and delightful dogs and two beautiful daughters Allesandra and Christina . Rochelle grew up with Labradors and remained steadfast to her dream to one day breed and own world class Labradors. The Andrew's careers took them all over the world with their competition horses but a period of rest from high level competition with young  baby Allesandra gave Rochelle time to follow her pipedream and  to buy her first Labrador after 20 years .
The best part about this timing is Allesandra gets to grow up with the best dogs in the world too! It is wonderful to observe the innate good nature of this breed when you see how they immediately find people, children preferably and ask for love!
All the dogs at Arroser have been raised with the King Andrews family in their home and their puppies will know only love and the best care and attention.  Perhaps they will have to be dressed in teddy bear clothes and dolls dresses occasionally but we don't think they'll mind.
Rochelle and Greg have sourced the best bloodlines from all over the world. Whilst one ambition  is to produce a world champion , the highest aspiration they have is to produce sound , clever trainable family dogs.